Gold Listings' Content
All content automatically fetched by our spider
Categories
New listings
England (2222)
Scotland (538)
Wales (336)
Northern Ireland (5)
United States (40)
Canada (2)
Australia (87)
New Zealand (7)
Other Countries (128)
Travel Related Links (383)
Accommodation Related (41)
Number of listings removed from our directory since 1st November 2019 =
485
The Rise of Wellness Retreats and Resorts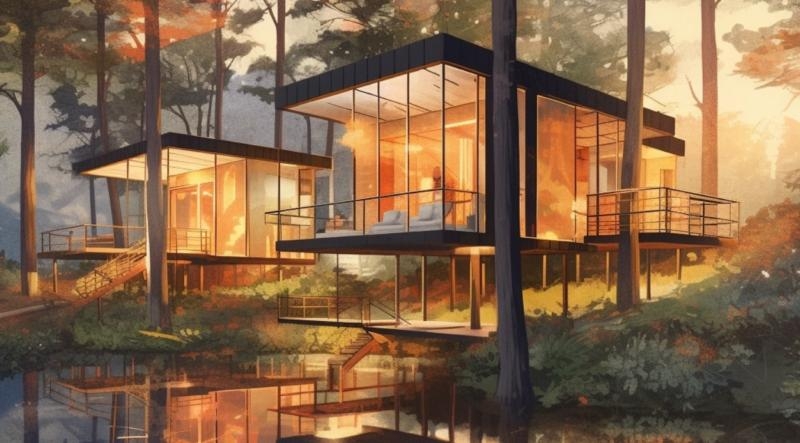 The Quest for Inner Peace in a Chaotic World
As we hurtle through the never-ending pandemonium of modern life, a growing number of people are seeking refuge in wellness retreats and resorts. These lush escapes offer a smorgasbord of holistic treatments and activities designed to calm the mind, heal the body, and massage the soul (not to mention your wallet). From yoga classes to meditation sessions, acupuncture to reiki, and organic food to juice cleanses, there's something for everyone. But are these havens of serenity worth the investment, or are they simply a cleverly marketed way to separate you from your hard-earned cash?
The Allure of Exotic Destinations
Wellness retreats are cropping up faster than you can say "namaste" in picturesque locales throughout the world. Tropical paradises like Bali, Costa Rica, and Thailand entice weary travelers with their turquoise waters and swaying palm trees. Meanwhile, the crisp mountain air and stunning vistas of locations like the Swiss Alps and Aspen, Colorado, offer a different kind of natural charm. And it's not just the scenery that's alluring. Many wellness retreats are designed to immerse you in the local culture, with activities such as temple visits, traditional cooking classes, and excursions to local villages. It's a well-known fact that a vacation is automatically more transformative if it involves a passport and a language barrier. Besides, who wouldn't want to return home with a suitcase full of exotic souvenirs and a newfound ability to say "chakras are aligned" in three different languages?
Escape from the Rat Race
Let's face it, modern life can be stressful. We're constantly bombarded with emails, texts, and social media notifications, all demanding our immediate attention. We work long hours, often with the nagging sense that we'll never be able to fully disconnect from the office. And that's not even mentioning the stress of daily life: the traffic jams, the incessant noise, and the hordes of tourists who gather in large groups and walk really, really slowly. Wellness retreats offer a respite from this chaos. By stepping away from the constant demands of society, you can focus on what truly matters: your own well-being (and perhaps whether you can achieve enlightenment before your travel insurance expires). With your smartphone tucked safely away in your luggage, you'll have ample time to contemplate life's deeper questions, like whether you can actually survive without caffeine and if it's possible to overdose on kale.
The Pursuit of Physical, Emotional, and Spiritual Balance
The benefits of wellness retreats extend beyond the relaxation factor. They often provide a comprehensive approach to well-being, addressing physical, emotional, and spiritual health. Whether you're looking to enhance your yoga practice, deepen your meditation skills, or explore alternative therapies, you'll likely find a retreat that caters to your needs.
Yoga classes in stunning outdoor settings, ranging from gentle hatha to sweat-inducing vinyasa, will have you bending like a pretzel in no time.
Meditation sessions, often accompanied by soothing music or the dulcet tones of a babbling brook, can help you quiet your mind and achieve inner tranquility (or at least help you practice not thinking about your overflowing inbox).
Workshops on topics such as mindfulness, stress management, and emotional healing can provide valuable coping tools and insights, as well as ample opportunity for self-discovery through group sharing and guided journaling.
Alternative therapies like acupuncture, reiki, and sound healing can address various physical and emotional imbalances – or, at the very least, provide you with some interesting dinner party anecdotes.
Hedonism vs. Holism: Finding the Right Balance
Wellness retreats and resorts can range from Spartan to luxurious, depending on your preferences and budget. Some offer a strict regimen of daily activities, clean eating, and early bedtimes, while others provide more of a "choose your own adventure" approach, with ample time for lounging by the pool, sipping organic wine, and indulging in spa treatments. The key to finding the right retreat is to be honest with yourself about what you truly want (and can realistically handle). If the thought of a juice cleanse and daily colon hydrotherapy sessions fills you with dread, opt for a more relaxed retreat that allows you to enjoy life's little pleasures while still focusing on your well-being. After all, there's no point in subjecting yourself to a week of misery when the goal is to leave feeling rejuvenated and refreshed.
Conclusion: To Retreat or Not to Retreat?
Ultimately, the decision to splurge on a wellness retreat boils down to personal priorities and preferences. If you're seeking a break from the daily grind, a chance to focus on your well-being, and an opportunity to explore new cultures and experiences, a wellness retreat could be the perfect escape. Just remember to approach the experience with an open mind, a willingness to step out of your comfort zone, and a healthy sense of humor – because nothing brings you back to earth quite like trying to hold a yoga pose while being attacked by a swarm of mosquitoes.