Gold Listings' Content
All content automatically fetched by our spider
Categories
New listings
England (2222)
Scotland (538)
Wales (336)
Northern Ireland (5)
United States (40)
Canada (2)
Australia (87)
New Zealand (7)
Other Countries (128)
Travel Related Links (383)
Accommodation Related (41)
Number of listings removed from our directory since 1st November 2019 =
485
Hotel Libraries: For the Love of Literature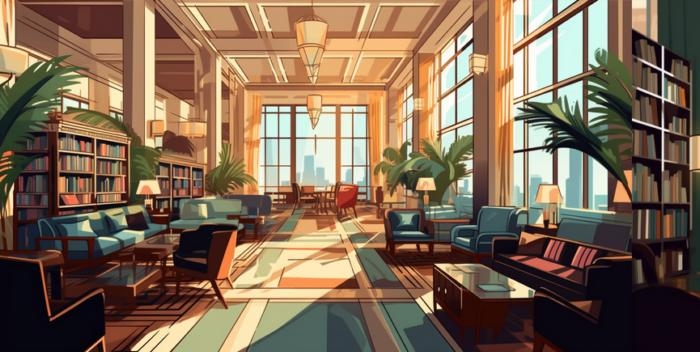 For those of us who love to indulge in the decadent embrace of a good book, there exists an oasis of literary delight hidden within the very structures designed to accommodate our worldly travels. Behold, the hotel library! These bookish havens exist to feed the mind and soul, offering weary travelers a cozy respite filled with tantalizing tales, vivid characters and the inescapable allure of the written word.
The Literary Beauty of Hotel Libraries
Forget the sterile, impersonal atmosphere of many hotel lobbies and accommodations. The hotel library is a sanctuary for the senses. Imagine: rich leather armchairs begging to be sunk into, the warm glow of lamplight casting a comforting glow over the spines of countless books, and the intoxicating scent of paper and ink awaiting your perusal. These spaces are akin to entering the very pages of a novel, as if the worlds contained within their covers have spilled out to envelop you in their embrace. Whether nestled in the corner of a grandiose lobby or occupying an entire floor, hotel libraries provide a unique atmosphere that simply cannot be replicated by any other means. They encourage contemplation, reflection and the elusive sensation of being transported to another realm through the magic of literature.
A Treasure Trove of Literary Delights
One of the greatest joys of traveling is the opportunity to discover new cultures, ideas and experiences. Hotel libraries are no exception. They are filled with books and stories that inspire the mind, challenge preconceived notions and offer a window into the lives and thoughts of others. Many hotel libraries boast impressive collections, featuring works spanning various genres, languages and eras. Guests can lose themselves in classics from the likes of Jane Austen, Charles Dickens and F. Scott Fitzgerald, or explore contemporary offerings from authors such as Zadie Smith, Haruki Murakami and Salman Rushdie. The opportunity for discovery is limitless. And, of course, some hotel libraries cater to their locale. In these instances, guests can immerse themselves in the culture and history of their destination, with books written by local authors or detailing the region's unique customs and traditions.
Tips for Enjoying Your Hotel Library Experience
So, how can one best navigate the enchanting world of the hotel library? Follow these tips to ensure a truly magical experience:
Take Your Time: The joy of a hotel library lies in its ability to transport you to another world. Allow yourself to be swept up in the pages of a book, and don't be afraid to linger over the words and phrases that resonate with you.
Explore the Collection: Don't limit yourself to familiar titles or authors. Embrace the spirit of adventure and delve into works that you might not have encountered before. You may be pleasantly surprised by what you discover.
Engage with Fellow Guests: Hotel libraries are a wonderful place to spark conversation and forge connections with others. Share your thoughts on a book, ask for recommendations or simply discuss your shared love of literature.
Respect the Space: Remember, the hotel library is a sanctuary for all who enter. Treat the books and the space itself with respect, and refrain from any activities that may disturb the peace and tranquility.
Notable Hotel Libraries to Add to Your Travel Bucket List
Allow me to offer a few suggestions for those seeking to indulge in the delights of a hotel library on their next journey:
The Library Hotel, New York City: As the name suggests, this boutique hotel is a veritable paradise for book lovers. Each floor represents a major category of the Dewey Decimal System, and the rooms themselves are filled with books related to their specific theme. The pièce de résistance is the hotel's Reading Room, a 24-hour space stocked with hundreds of books and offering guests complimentary refreshments.
Hotel Emma, San Antonio, Texas: Housed in a former brewery, this historic gem boasts a library filled with over 3,700 volumes. Guests can enjoy a curated selection of books, ranging from literature and history to Texana and culinary arts, all while lounging in sumptuous armchairs and sipping on a craft cocktail from the adjoining bar.
La Mamounia, Marrakech, Morocco: This stunning luxury hotel is home to a library that exudes Moroccan charm, with richly colored furnishings, traditional lanterns and a collection of works in French, English and Arabic. The cherry on top? A gorgeous outdoor terrace overlooking the hotel's lush gardens.
In conclusion, dear literary aficionados, as you traverse the globe in search of adventure and enlightenment, do not neglect the wealth of knowledge and inspiration that awaits within the walls of hotel libraries. They are havens for the soul, portals to other worlds and a testament to the transcendent power of literature. Embrace them, savor them and allow the enchantment of the written word to ever enrich your travels.