Extreme Hotels: Accommodations in Unlikely Places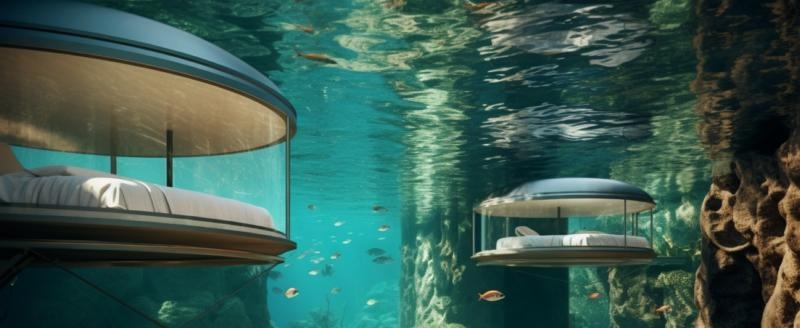 As your trusted and somewhat deranged travel guide, it is my duty - nay, my pleasure - to inform you about the world's most extreme hotels. These are not your run-of-the-mill, cookie-cutter accommodations that serve as mere launching pads for your daily excursions. Oh no, these are entities unto themselves, destinations that inspire awe, fear, and the occasional bout of existential crisis. But fret not, for I have braved these treacherous terrains and lived to tell the tale. So, fasten your seatbelts, for we are about to embark on a strange and wild ride through the world of extreme hotels.
The Icehotel: A Frosty Wonderland
Deep in the frozen heart of Swedish Lapland lies the Icehotel, a chilling yet enchanting wonderland carved from solid ice. Some might call it a temporary triumph of human ingenuity over nature, while others, like myself, might simply gawk at the sheer absurdity of it all. The rooms are sculpted from massive blocks of ice harvested from the nearby Torne River, and each one boasts a unique design crafted by artists from around the world. As you might suspect, maintaining a constant temperature of -5°C requires a certain degree of fortitude, not to mention a willingness to don a complimentary thermal jumpsuit and sleep on a bed of ice draped in reindeer hides. Though the Icehotel may be ephemeral, melting away each spring to return to its watery origin, the memories you forge amidst its crystalline walls will stay with you forever...or at least until the hypothermia sets in.
The Manta Resort: An Underwater Dreamscape
Fancy sleeping with the fishes, but not in a mobster sort of way? Look no further than the Manta Resort on Tanzania's Pemba Island. Here, you will find a floating, three-level wonder known as the Underwater Room, where you can drift off to sleep in a submerged bedroom as tropical fish glide by your windows. As someone who has experienced this firsthand, I can attest to the surreal, otherworldly sensation of waking up in the dim morning light, surrounded by the vast, watery abyss. It is a place where the boundaries between dreams and reality blur, and one can't help but ponder the unanswerable question: is this what it's like to be a fish? And if the underwater slumber itself isn't enough, the Manta Resort also offers a variety of aquatic activities, such as snorkeling, diving, and sunset dhow cruises. Should you tire of the sea, the resort's lush tropical gardens and white-sand beaches are sure to provide ample distraction.
Skylodge Adventure Suites: Sleeping on the Edge
For those with a penchant for heights and a taste for the extreme, I present to you the Skylodge Adventure Suites in Peru's Sacred Valley. Suspended 1,200 feet above the valley floor, these transparent capsules cling tenaciously to a sheer cliff face, offering unparalleled views of the surrounding Andes Mountains...and the vertigo-inducing drop below. Reaching the Skylodge is no small feat, requiring guests to either scale the cliff face via ferrata or navigate a series of precarious zip lines. And once ensconced within your airborne cocoon, one might wonder whether the spectacular vistas are worth the constant, nagging fear of plummeting to one's doom. But fear not, for the capsules are constructed of aerospace-grade aluminum and weather-resistant polycarbonate, capable of withstanding the most extreme conditions. Rest assured, dear adventurer, that you are in (mostly) capable hands.
Jules' Undersea Lodge: A Subaquatic Sanctuary
Take a trip to the strange and watery depths of Key Largo, Florida, and you will find Jules' Undersea Lodge, a former marine research lab turned into an underwater hotel. To gain entrance to this submerged sanctuary, one must first brave the murky waters and scuba dive 21 feet down to the lodge's entrance, a feat which may induce equal parts thrill and dread in even the most stalwart of travelers. Once inside, you will be greeted by the cozy confines of the lodge, complete with a small kitchen, living area, and two bedrooms, each featuring a large, 42-inch round window that peers out into the watery abyss. The lodge is equipped with air conditioning, hot showers, and an entertainment system - all comforts of home, nestled in the bosom of the deep blue sea. Whether it's the icy embrace of the Icehotel, the ethereal beauty of the Manta Resort, the nerve-wracking heights of the Skylodge, or the subaquatic serenity of Jules' Undersea Lodge, these extreme hotels offer experiences like no other. So, my fellow travelers, I encourage you to step outside your comfort zone and venture into the unknown, the bizarre, and the downright terrifying...for it is there that life truly begins.